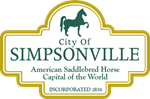 Welcome to Simpsonville Parks & Recreation
Simpsonville Parks and Recreation has a variety of activities and events. Please browse our page(s) to see if there is something that interests you.
You can find sports schedules, special events information, along with general information on all available opportunities.
If you do not find what you want, please contact the Park office either by phone at 502-722-8793 or email us at: simpsonvillepark@cityofsimpsonvilleky.com
Check our website often for dates, times and schedules of current and upcoming events and happenings.
We continually strive to increase the Playability of our community! Please visit one of our parks, local play spots or register for one of our many programs and services to enjoy all that Simpsonville, Kentucky has to offer.
Get Involved ... Volunteer!
Parks and Recreation volunteers provide valuable services to the community by assisting in many events and programs in a variety of ways. Volunteers can participate on a regular basis or on occasion as desired.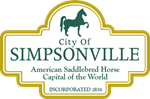 Contact Us:
Email:
simpsonvillepark@cityofsimpsonvilleky.com
Phone: (502) 722-8793
Physical Address
Simpsonville Parks and Recreation
Mailing Address
Simpsonville Parks and Recreation